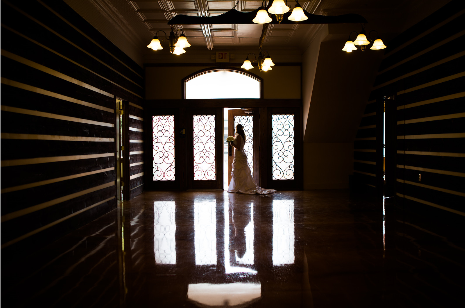 Is there a security deposit?
A $200.00 security deposit and 50% down payment of the room rental fee must be paid when you book your event. To officially reserve a date, you must sign and return the facility contract with your deposit.
What is the cancellation policy?
In the event of a cancellation, a written letter must be faxed, emailed, or sent to Bricktown Events. Events canceled one year to six months prior will receive a full refund. Events canceled six months or less prior to the event the deposit/50 % down payment is automatically considered fully nonrefundable unless a booking of greater or equal value is booked for that date.
Are tables & Chairs included?
Venue Rentals include tables and seating for up to 100 guests. Rental includes 2 display/supply tables with appropriate linens. Any additional setup or display tables needed will be charged $5.00 per table. A rate of $.95 each will be charged for additional chairs.
Are we allowed to decorate?
All decorating must be coordinated in advance with our event coordinator. We can help you with the decorating aspect of your event or you can make it your complete responsibility. All decorating ideas must be approved with facility management.
If you plan to decorate on your own you're responsible for the prompt removal of all decorations or exhibit. Generally with written request you may access the venue to decorate and setup. However, our business does fluctuate, so it is very important that you specifically request and schedule your setup time with our event coordinator. Bricktown Event assumes no responsibility for any decorations or equipment left behind at the conclusion of the event or any loss or damage that may occur to these materials. Furthermore, Bricktown Events reserves the right to deny any decorations deemed potentially damaging to the facility.
* You MUST inform us of anything you intend to put on the walls. At no time may items be tacked or nailed into the wall. (ONLY painters tape and/or stick tac may be used.)

*NO RICE, BIRDSEED, CONFETTI, or BUBBLES are allowed inside the building.

What if one of my guest or I damage something at Bricktown events? Am I responsible to pay for this?
A security deposit will be required for your event. Security deposits will be refunded in part or whole after an inspection of the premises by our facility management. The Contracting Party is solely responsible for any damages that occur to the building, equipment, fixtures due to activities of your guests or subcontractors. Any charges exceeding the security deposit amount will become payable with in ten(10) days from determining the cost of repairs.
Bricktown Events reserves the right to assess a labor fee for extraordinary cleanup or abuse to the event space.

Can I store or ship items ahead of time?
Bricktown will handle any request on a case by case basis. Please contact your event coordinator with specifics. Bricktown Events will not be responsible for any loss or damage that may occur while in our possession or on our property. Any packages shipped to our location without prior approval will be returned.
Smoking?
Bricktown Event is a Smoke-Free facility. Smoking is permitted in designated areas outside of the building.
Does Bricktown provide catering service ?
We currently do not provide catering services. However, our event coordinator can help you secure catering service for your event. We have an extensive list of catering companies that we work with on a regular basis. You may also choice to hire an outside own catering company. All catering companies not on our approved list of vendors must provide us with a certificate of insurance listing Bricktown Events as additionally insured.
Can we hire a DJ?
All details of entertainment must be discussed with our event coordinator and must be made known in advance and must be pre-approved by management. All entertainment choices not on our list of approved vendors must provide us with a certificate of insurance listing Bricktown Events as the additionally insured.
When is my final payment due ?
Final payment for your event is due in full five (5) days prior to your event.